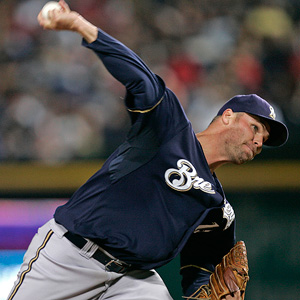 As Ben Sheets ponders the idea of rotator cuff surgery, for which takes a full season to heal, it poses the question of whether he will be under contract this season, or spend the year rehabbing on his own.
The Mets will go into 2010 with two starters under contract, Santana and Perez, and two others, Maine and Pelfrey, will both be arbitration eligible. Tim Redding who signed a one year deal this offseason has no options in his contract.
Sheets who, when healthy has been absolutely stellar would love to sign a deal covering this year and next. He has always been a huge injury risk, as can be seen as he has been unable to sign a contract this off season, and will continue to be next season as he'll be coming off shoulder surgery.
John Maine is already an injury concern as last year he didn't have the stamina to finish the year, and there is the chance they may need to move him to the bullpen this year.
Sheets offers the Mets a chance at a stud pitcher for the price of a journeyman. Sign him to a two year deal with a club option for a third. Give him Elmer Dessenes league minimum salary this year to rehab in Port St. Lucie, a $3 million contract for 2010, and an club option at $5 million, with a $250k buyout. Sheets would love to have the security, and the Mets would have a huge upside for under $4 million.